All-On-X Dental Implants

Glenview, IL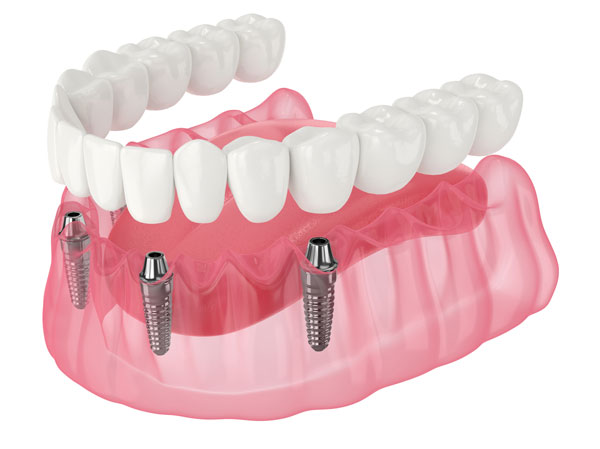 Dental implants are a common and versatile form of dental restoration. These can be used to provide a base for several dental restorations, such as bridges, crowns, and fixed dentures. Restorative procedures are critical for giving you more natural function and looks after you have experienced tooth loss. There are numerous types of dental implants available, one of which is the All-On-X. At Glen Perio, we can give you more information on what this procedure involves.


All-On-X Overview

All-On-X treatment is a specific dental restoration involving just four dental implants. This is a great benefit over other dental restorations which may involve many dental implants. These four individual implants are able to support an entire set of false teeth. In addition, this is a permanent restoration solution, so they will not need to be removed at all.

All-On-X treatment is for individuals who have lost each of their teeth or a majority of their teeth. Typically, our patients that wear dentures will seek this procedure for an easier to maintain solution. We can use All-On-X treatment with patients of any age. The only requirement is good oral and overall health so that your system can support implants.


Benefits of All-On-X

While some people seek non-implant restorations, this is a preferred option for many of our patients. It is far less invasive than other dental implant procedures. It is a surgical procedure, but this procedure is very simple. It also requires less preparation than traditional implants do, and has many benefits. For instance, they do not require a bone grafting procedure. They are also placed at an angle, making them easier for your jaw to support. All-On-X has simple maintenance and a very natural look and feel. These will prevent changes in facial structure that are seen when people have lost their teeth. In addition, they have a very high success rate (98%) and are stronger than many other options.


Procedure

The placement of All-On-X generally takes about two to three hours. We begin by administering both local and general anesthetic. Our periodontist will explain the procedure and expected recovery time during your consultation. In general, anesthesia can take the rest of the day to fully wear off. So, it is best if you arrange for someone else to drive you home.

In order to place the implants, we will make the incision. We may need to cut both gum and bone tissue, in addition to removing tissue if necessary. All-On-X implants are made of titanium and they resemble screws. This same procedure is used for each of the implants. These are all placed in the lower jawbone.

We then let the implants heal and fuse with your bone, which could take up to six months. We will provide temporary restorations while you wait for the healing process to complete. After everything is healed, we can place your permanent dental restoration.

For oral hygiene, all you need to do is brush twice a day and floss at least daily like you would with natural teeth.

If you have any questions about All-on-X treatment, we can help. For additional information, call Glen Perio at 224-488-3392.