Tooth Extraction

Glenview, IL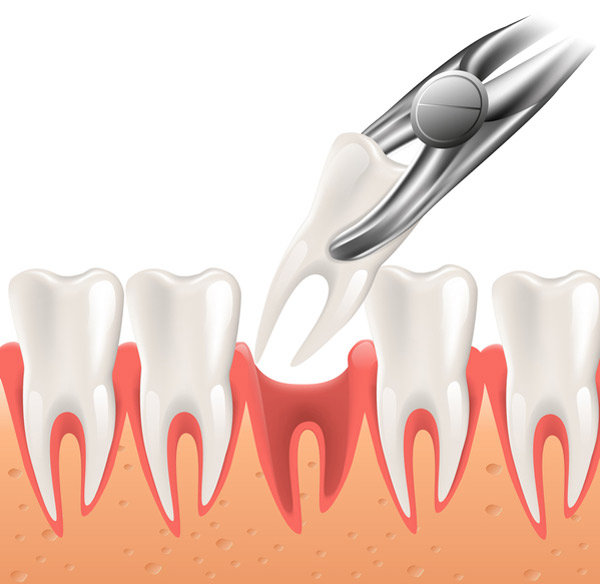 Periodontitis can eat away at your teeth, causing severe decay. When this happens, a dental extraction may be necessary. Leaving an infected tooth in the gum causes the bacteria to spread, possibly into the bloodstream. You could experience bone loss and other health issues. There are two different types of dental extraction: simple and surgical. At Glen Perio, we provide dental extractions and several restoration procedures as well.


Simple vs. Surgical Extractions

Simple extraction only requires a local anesthetic to numb the area. You are awake during the procedure since it is not a surgical procedure. This is used when your tooth is completely visible and easy to remove without cutting any tissue. A surgical extraction is used when the tooth is impacted, meaning it is stuck below the gum surface. These are most often used for wisdom teeth. A surgical extraction involves both local and general anesthetic, so you will be asleep during the procedure.


Procedure and Recovery

Our periodontist begins by administering your anesthesia. For simple extractions, they use a dental elevator to loosen your tooth. They can then use forceps to remove it. For surgical extractions, our periodontist will need to make an incision into the gum so that the tooth can be reached. Some bone tissue may need to be taken out in order to get to the tooth. It is also possible that the tooth may need to be cut and removed in parts. Our periodontist uses forceps and other tools to remove teeth during surgical extractions. After the tooth is removed, they will suture the incision and bandage it. Sutures are not needed for simple extractions.

You will receive specific recovery instructions following your procedure. You may feel numb and groggy for a few hours while the anesthesia wears off. It is also normal to feel a slight tenderness for a few days after the dental extraction. We may recommend ice or over-the-counter pain medicine to assist with swelling and tenderness. We will also give you instructions on the types of food to eat.


Dental Restorations

For any tooth extraction, you have the option of leaving the empty space rather than filling it in with a false tooth. However, for aesthetic and functional reasons, most patients choose to get a dental restoration. We have several types of dental restorations available, such as bridges, crowns, and implants.

Dental bridges will only be used if you end up losing multiple teeth next to each other. These are false teeth that are supported by either implant or cementing to the adjacent teeth. Crowns are often placed on top of dental implants as well. These are singular false teeth that are cemented to the implant. Both bridges and crowns can be made of different materials, depending on whether your preference is for aesthetics or function. For teeth toward the back of the mouth, we generally recommend metals. These do not blend with natural teeth, but they are very durable. For teeth in the front, patients generally choose porcelain or composite resin. These are more fragile, but they look like natural teeth. Implants are titanium structures that are placed in the jawbone and gum. Call Glen Perio at 224-488-3392 for more information about dental extractions.